WORLD-CLASS EXPERTISE IN CHILDREN'S FASHION
WELCOME TO KIDS À LA MODE #7!
Dear Reader,
Welcome to the seventh issue of Kids à la Mode: A Global Review of Children's Fashion, Décor and Lifestyle. Why have we added "Lifestyle" to our sub-heading? Because in today's dramatically fast-changing world, it's
impossible to separate fashion from the current events of the world at large, and the way we live in response to those events.
An obvious and profound change is due to the current lack of in-person trade shows, traditionally the time we meet our industry colleagues and get an inspiring overview of the new season. While we eagerly await the shows' return, there is still plenty of creativity and talent to be discovered. Kids à la Mode brings you our selection of the season's very best international children's wear collections, presented in favorite features such as "Essential Trends," "Color Trends," themed collage "Looks" and more. This issue includes in-depth interviews with the creators of top-level lines at Paade Mode, Raspberry Plum and Senorita Lemoniez, with looks at their exquisite Fall/Winter 2021 collections.
As the boundaries between home, school and work disappear, the home décor sector is ever more important. Kids à la Mode showcases some fabulous finds for kid's décor and accessories, seen at Maison & Objet Digital Show, including Mathy by Bols, Maison Deux, Sergeant Paper, AFKliving and others. These companies' products transcend from function into art, and will surely be appreciated as equally by adults as by children.
We can't imagine a better way to celebrate Kids à la Mode Lifestyle than to highlight the lives and art of two great talents, Rudy Ruffo and Lamont Joseph White. Rudy tells delightful stories of his amazing career as
celebrity hairdresser and photographer, while Lamont shares his thoughts about "Skiing in Color", the inspiration for his powerful and important collection of paintings on this topic. We are especially excited to present Lamont's painting as the smiling cover girl for Kids à la Mode #7!
Janet Jacobs
Publisher/Editor in Chief of Kids à la Mode
TABLE OF CONTENTS
Questions? give us a call at 973-890-9048 or complete the following form and we will be in touch as soon as possible!
Essential Trends Fall/Winter 2021/2022
FABRIC FEST
Patch It. Don't Match It
Anything goes! The do-it-yourself craze inspires a fun, home-made look starring mixed patterns, prints and plaids.
Mix it up on voluminous tops; long tierred skirts; eyelet-trimmed dress; patch-pocket shirt and quilted vest.
Crazy-quilt patterns have a vintage Americana feel, using calico prints, checks, dots and solid fabrics. Even knitwear joins the patchwork trend.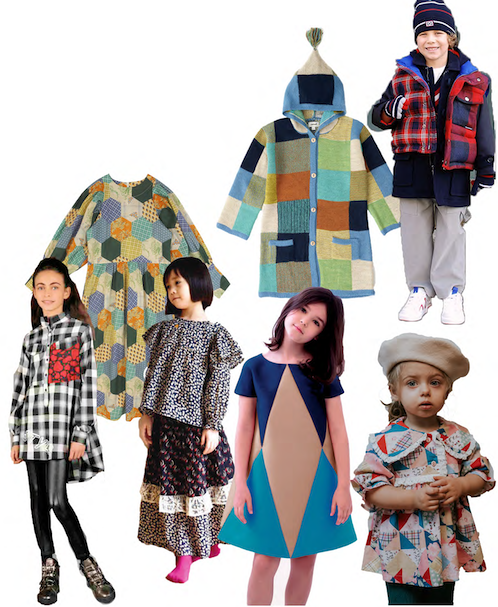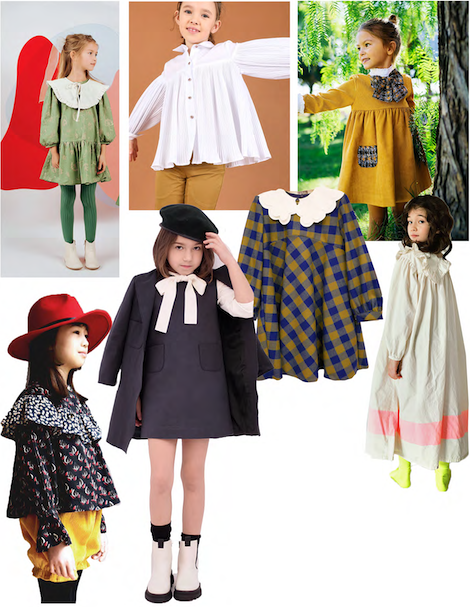 PETITE ARTISTE
Design inspiration from the atelier
Beaux Artes looks for today's young creatives feature smock-likesilhouettes in dresses and tops.
Big collars with big bows bring attention to the top of these full, flowing styles. Ruffled yokes, patch pockets and a chic hat or beret set off the arty ambience.
Go with the flow fabrics include fine-wale corduroy, bias-cut Lulaland flannel plaid and crystal-pleated cotton.
KNITWEAR EXRAORDINAIRE
Spinning a fabulous yarn
Knit pieces showcase an abundance of patterns,from cables and diamonds to stripes and plaids.
Knots, purl stitches and mohair yarn add interesting texture, in color ranges from saturated to soft and muted.
Novelty knit styles include funnel neck sweaters; 3-piece outfits for babies; patterned knit bag; decorative scarves as sweater accents.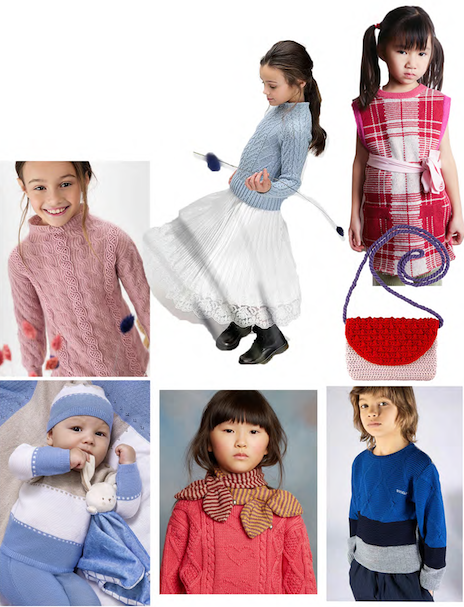 READ MORE