WORLD-CLASS EXPERTISE IN CHILDREN'S FASHION
WELCOME TO KIDS À LA MODE #6!
Dear Reader,
Looking to describe the last six months, it's hard to avoid such overused phrases as "unprecedented", "challenging times" and "the new reality". Every sector of our world-wide industry faced enormous obstacles to designing, producing and selling their Spring/Summer 2021 collections, and the lack of trade shows as a revitalizing jump start to the season was sorely missed.
However, necessity inspires ingenuity, and the end result is a Spring/Summer season filled with color, creativity and delightful designs. Many companies staged their own photo shoots, taking pictures of local kids wearing their products in lovely natural outdoor settings. Physical trade shows were replaced with digital editions that provided a nice overview of the collections and a chance for interaction between buyers and brands. We were especially impressed with the Maison et Objet Digital show this season. Easy to navigate and a true pleasure to look at, M&O showcased some of the most exciting designs and striking photography seen anywhere. With consumers spending so much time at home these days this deco market is especially important, and we enjoyed featuring some of our favorite brands such as Circu Magical Furniture, Yuko-B, Les Deglingos and The Nice Fleet.
In this issue you will find a new feature called "À la Carte". Focusing on just one item or brand per report, we hope to introduce you to something special that you might have otherwise missed. This issue's À la Carte offerings include artistic poolside lights, kid's sailboat accessories and fun do-it-yourself clothing decorations. Our Essential Trends and Color Trend reports showcase some of the best international collections of the season, with a focus on upbeat themes, light-hearted motifs and warm, uplifting palettes. Interviews with top brands in the United States and Europe were equally inspiring. Tia Cibani, Arsene et les Piplettes, Lunii, e-setera and others shared their stories and showed highlights from exceptional Spring/Summer collections.
At Kids à la Mode we are dedicated to informing, inspiring and encouraging an international group of manufacturers, retailers, designers and consumers. More than ever it's important to stay safe, stay well and STAY CONNECTED!
Janet Jacobs
Publisher/Editor in Chief of Kids à la Mode
READ SOME OF OUR ARTICLES!
Questions? give us a call at 973-890-9048 or complete the following form and we will be in touch as soon as possible!
Essential Trends Spring/Summer 2021
GOOD VIBES
Guaranteed to make you smile
Multi-hued brights and happy graphic messages add a festive vibe to tee shirts, sweaters, kid's dishes and crocheted toys.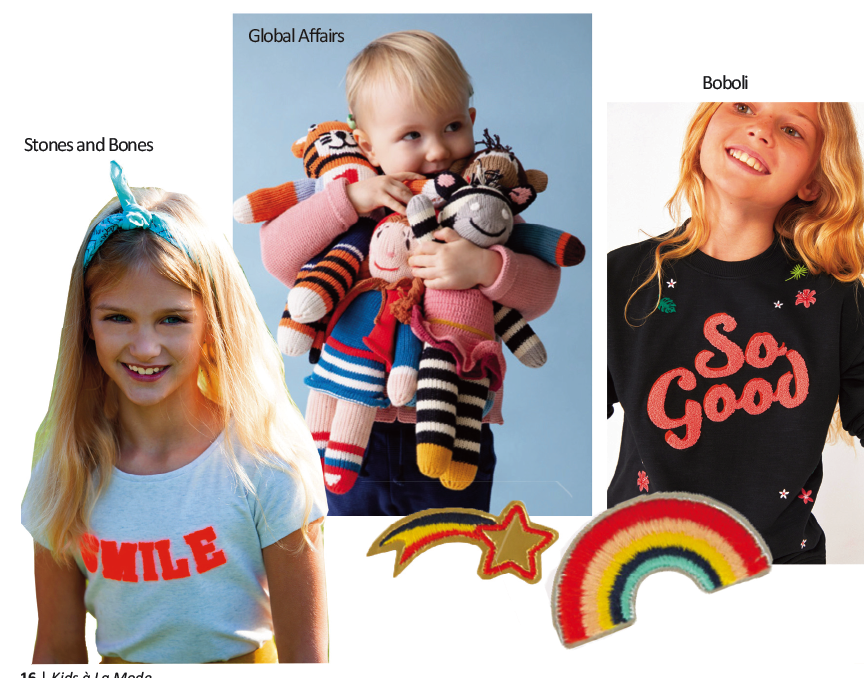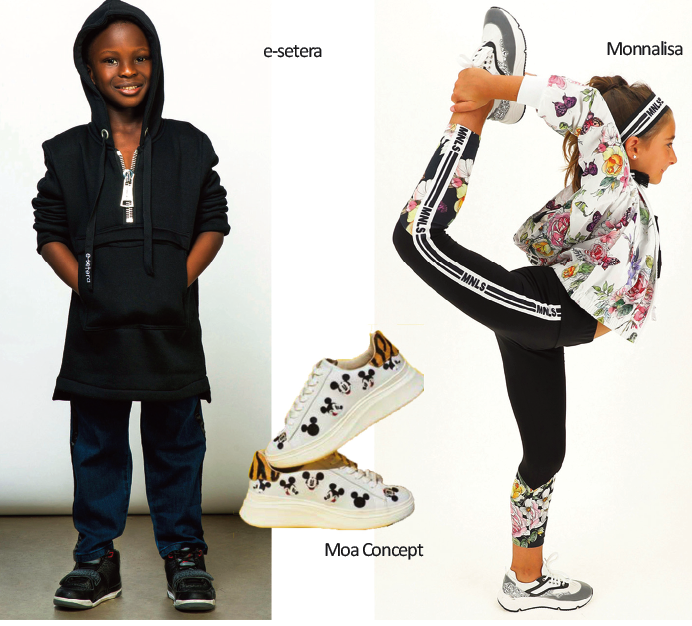 ACTIVE MEASURES
Kids stay strong and on the move in sleek, easy sportswear
Athletic looks and soft stretch fabrics are key to comfort dressing that goes from home, to school, to sports.
PARTY BEACH
Sun, surf and swimwear
Ocean-themed graphics in hot beach colors are a natural for tee shirts worn with jean shorts or swim shorts.
READ MORE